Pines Market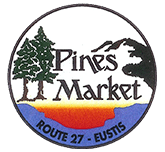 Long Description:
Welcome to Pine's Market located in Eustis, Maine. We proudly have been serving customers for more than 30 years. Whether you're shopping for everything on your grocery list or just need a few specialty items, Pines Market will meet your needs.
We offer a full variety of fresh quality products including meats, produce, deli items, dairy products, liquor, beer, and wine. We're also known for having the freshest Bakery & Deli goods you can find. Our full service Meat department can help with custom meat preparation and cutting.
We invite you to experience Pines Market's commitment to excellent customer satisfaction and a wide variety of high quality products at great values. We want to be your 1st choice for a full service supermarket and look forward to serving you!
Pines Market provides all you need when on the trail, including registrations for both ATV and snowmobiles. Try our pizza and soups when you stop by.